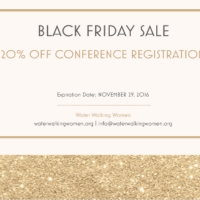 Black Friday Sale
By Shyreka Sturdivant, Conference Director | November 23, 2016
Ladies,

Get ready for our lowest sale of the Season! We are offering our 2017 Conference for just $75 - that's 20% off the published price, so be sure to register this Friday for the, "We Win" Conference on Land August 10 - 12, 2017!

Prices include: Conference Materials, Signature T-Shirt & WWW Bag, and Breakfast each morning

We'll see you then!

Click HERE to register and use promo code - Thankful!
Back