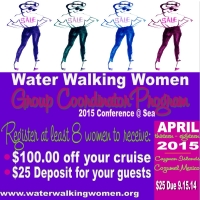 Group Coordinator Program
By Reshae Crawford, Registration Director | September 11, 2014
We are looking for Women to partner with us in sharing this Ministry with others.

We know, believe, and stand on the truth that this Ministry truly belongs to God. His hand of grace and mercy were evident during the Conference. And if that weren't enough (and it certainly was), your smiles, hugs, laughs, tears, amens, words of encouragement, acts of kindness, were definitely seen, felt and received.

With that being said, we are moving forward in Him and want to bring more women along with us! If you have the gift to gather girls for God, we need you! We are looking for women who will partner with us to bring more women to the foot of The Cross in the following Cities/State:
Palm Springs, CA
Riverside, CA
Long Beach, CA
Los Angeles, CA
Fresno, CA
San Francisco/Oakland, CA
Sacramento, CA
Seattle, WA
Dallas, TX
Chicago, IL
Flint, MI
Detroit, MI
If you believe you can gather at least 8 women (yourself included), we will give you $100 off your cruise; you can even go for free with 12 women! Registration for everyone is just $25 down and to get on the
payment plan
, it must be paid by Monday, September 15.
For more information about the Group Coordinator Program, please click
HERE
.
We love you and look forward to serving with you!
Back