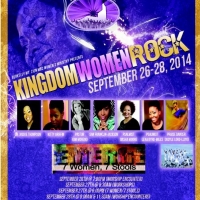 Kingdom WOMEN Rock
By Shyreka Sturdivant | September 4, 2014
Call your sister, your mom, your daughter, and your best girlfriend about a women's conference neither of you will want to miss!

On September 26 – 28 Berkeley Mt. Zion will host our Women's

Conference entitled Kingdom Women Rock this conference will equip you with tools to prepare you for victorious living in every area of your life!!!

Our guest include Dr. Jackie Thompson, and Pastor Kim Moreno
And wait there's more!

The critically acclaimed play 7 Women, 7 Stools featuring Psalmist Kitty V. Griffin, BET's Sunday's Best Finalist - Sara Martinez, Elaine O'Neal Moonie of Tyler Perry's 'I Can do Bad All By Myself', Amber Sauer of BET's Celebration of Gospel will all be part of your conference weekend registration package!!!
And wait, there's more!

Get your PRAISE ON with psalmists and worship leaders
San Franklin-Jackson
Dasha Moore
Lena Byrd-Miles
Praises Dances by Covenant Praise Dancers and
Doyde Llyod


And finally participate in our wonderful worship services with us on Sunday morning

For registration information log on to eventbrite.com, berkeleymtzionmbc.org or call 510-524-1204

On September 26 – 28 be a part of the gathering of Kingdom Women Rock!!!
Back