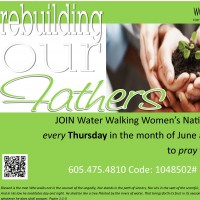 Praying for our Fathers
By Shyreka Sturdivant | June 6, 2013
Join us every Thursday in the month of June at 12:15pm PST as we pray for our Fathers. The Father's presence is so powerful in the life of his Children, Church, Community and Country. It was God's plan that Fathers would be our leaders and we believe that it is not too late. As we believe every promise in the Bible for various areas of our life, we also believe it for our Fathers!
So please, join your faith with ours this month, invite every man you know to dial in, and let us watch God reBUILD our Men!
Prayer leaders for the month:
6.6: Sister Monica Galloway, Flint, MI
6:13: Brother Jarvis Crawford, Desert Hot Springs, CA
6:20: Brother Ruben Harrell, Palm Springs, CA
6:27: Pastor Gregory Sanders, Long Beach, CA
You DO NOT want to miss it!
605.475.4810 Code: 1048502#
Click HERE to submit a prayer request/praise report.
Back