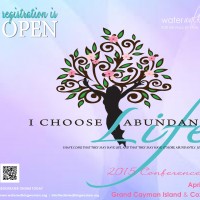 Registration is now open
By Shyreka Sturdivant, Founder & Conference Director | June 10, 2013
Hello Water Walking Women!
Our 2013 Conference was life changing as we were equipped with God's Word to boldly declare – I'm Back! We are back from all the pain, problems, perplexities, and pressures that were brought to us or that we carelessly went and grabbed!
So now that we are back, it's time to LIVE; live the life that Christ gave us in ABUNDANCE! Our 2015 Conference @ Sea will be packed with empowering sessions, explosive praise, and edifying girlfriend time!
We are known to have a Mary~Elizabeth ratio at our conference, so it is ideal for moms, daughters, sisters, aunts, grandmothers, co-workers, church sisters, and the like!
It's a time where you enter the cruise ship not knowing many of the other ladies, have dinner one night, begin to chat and realize that you are linked to each other by a family member or a friend (this really happened)!
We cry together, praise together, pray together, overcome fears together and experience victory together as we launch out into the deep! Our conference feel is relaxed; no titles or VIP seating, just some girls who have been all to all and need some "me" time!
Sign up soon while the "Early Saver" special is going on; reduced cabin prices, registration fee and lowest price guarantee!
We can not wait to meet you and praying for every aspect of your life as you begin to sign up for the 2015 "Abundant Life" Conference @ Sea.
Because of Christ, Calvary and its Completion!
Shyreka Sturdivant
Founder & Conference Director
P.S. Please plan to arrive on Sunday, April 12 if traveling from the West Coast.
Conference Dates:
Monday, April 13 - Saturday, April 18, 2015
Prices starting at $575.88
Back