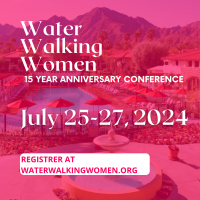 REGISTRATION IS OPEN
By Shyreka Sturdivant | October 10, 2023
LADIES, REGISTRATION IS NOW OPEN FOR OUR 15-YEAR ANNIVERSARY CONFERENCE!!!

We are gearing up for three days of rest, renewal and recharging. You and your Girlfriends will find time to remove the bags and armor you've been carrying and rest in the presence of God. 2024 will mark five years since we were together in person and we believe this conference will be favored greatly by God. So be sure to take advantage of early registration.

Do everything you can to meet us July 25 - 27, 2024 - it will be more than you ever expected!!

We love you and can't wait to see you,

Your Water Walking Women Sisters!
Back