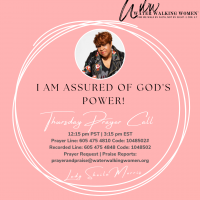 There is POWER in PRAYER!
By Shyreka Sturdivant | April 19, 2023
Ladies,

We have been experiencing God's rich presence on our weekly prayer calls and are so very grateful you make time to join us!

This week's prayer leader, Sheila Morris, of Richmond, California will take us deeper into our theme, "I Am Assured of God's Love"! So, be sure your alarm clocks are set - you don't want to miss this one.



Water Walking Women Prayer Call
12:15pm PST | 3:15pm EST
Prayer Line: 605 475 4810 Code 1048502#
Recorded Line: 605 475 4848 Code 1048502#


Back